October steel prices have resistance?
Share
publisher

Gloria Wang
Issue Time

2017-10-07
September 2017, the domestic steel market, followed by Yang, showing finished lower trend. 7, August off-season demand is not short, partly because steel prices rose to stimulate demand, and then overdraft part of the demand in September. With the steel stocks in September rose gradually, the market pessimism warming, in mid to late September high steel prices fell. The following chart shows steel factories' rebar profit trend in Tangshan City.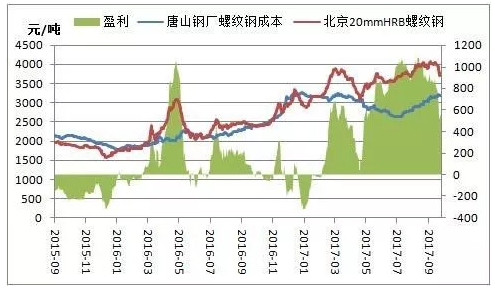 Overall, due to weather pollution control, upstream and downstream enterprises are affected, in October the steel market to see the main policy, the supply and demand of two weak no suspense. On the one hand, the domestic economy is still the main tone of the tone, coupled with the high price of steel foam in September to be squeezed, the market should not be too pessimistic, especially the upstream steel mills steady. On the other hand, postganglionic brokers still have to go to inventory pressure, the downstream price of raw materials have to suppress the will. It is expected that the steel market in October rose resistance, the bottom of the support, upstream and downstream game intense, or showing range of volatile market, the overall price level or slightly lower than in September.